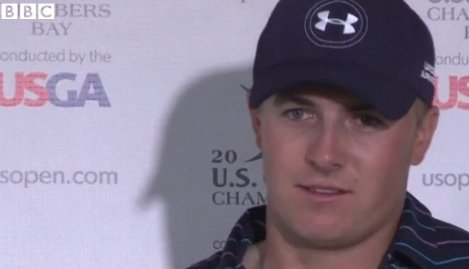 Take a minute to reflect on a spirit-lifting example we can applaud and emulate. Justin Spieth withstood daunting conditions to win the 2015 US Open. BBC described Spieth as "magnanimous" in his win. From his press conference video, five quotes reveal outstanding character:
Grace
"I feel for Dustin." – He demonstrates grace as he sympathizes with another talented player who came so close to winning himself or forcing an extra playoff round.
Humility
"I was just able to have another hole to rebound." – Though his play was good enough for the win, Spieth showed his humility in favorably comparing Dustin Johnson's performance to his own.
Self-Assurance
"I really don't think of my age, I just think of us all as peers." – Spieth isn't worried about where he fits in the golf world, he just firmly believes that he does fit and considers everyone as equals.
Ambitious Confidence
"It's cool to be able to have two legs of the Grand Slam now." – Spieth, though gracious and humble in his win, isn't satisfied by any means and shows his sights to be firmly set on "chasing golf's number one spot."
Collective Pride
"It's awesome that the game's in young hands" – Spieth highlights the 'young guns' who now hold golf's biggest wins, which shows his pride encompasses more than only his own talents and extends to the game's young leaders.
What a great illustration of leadership! It is possible to be the best – while bringing others up along with us.
Spieth's collective pride reminds me of the pride exhibited by the best leaders – whose pride is in their teams, their organizations. Also a great reminder that character is independent of years. May BBC's choice of 'magnanimous' also be how others describe us. Spieth BBC Video