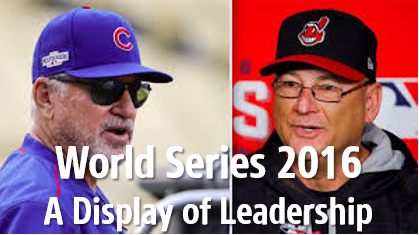 Besides breaking the 'loveable' Chicago Cubs' 108 year-long drought and giving fans lasting memories from exciting, gut-wrenching games, the 2016 World Series was also a showcase of leadership.
Chicago's Joe Maddon steered his team to baseball's best record but found themselves down three games to one due to Terry Francona's deft handling of a beaten up, but now, white-hot Cleveland team.
The post-game new conferences revealed both skippers' unshakeable faith in their teams, their confidence in moving forward, but also their sincere respect for their opponents. This was an honor for each team, their managers said, and despite each teams' flat-out commitment to 'leave everything on the field', this once-in-a-lifetime, competitive 'battle' never became personal.

Merriam-Webster's dictionary defines sportsmanship as "conduct (as fairness, respect for one's opponent, and graciousness in winning or losing) becoming to one participating in a sport."
While electric pitching and defence were clearly evident, what was notably absent was individual grandstanding, vindictive retaliations, or over-aggressive contact. The 2016 World Series was a clarion demonstration of the absolute best possible play without the poor sportsmanship and trash talk for which we have all become too familiar.

Both Maddon and Francona modeled both excellent management and sportsmanship in front of their players and fans. During pauses in play, opponents chatted light-heartedly as they stood at their bases. Cleveland's Francisco Lindor grinned and patted Chicago's Kyle Schwarber's injured and braced knee after Kyle surprised many with a steal of second base. Schwarber's only response, a wry smile.[pullquote align="right" cite="" link="" color="" class="" size=""]The 2016 World Series should be remembered, not only for its history, but also for its purity.[/pullquote]
The 2016 World Series should be remembered, not only for its history, but also for its purity. The two best work cultures in baseball showed us anew that it is still possible to compete ferociously, while still smiling, caring, and enjoying a game. When I coached, the highest compliment was when our opponents said that our team fought hard, but we were also good sports.

Thank you Joe Maddon, Terry Francona, and both your organizations, because we really need examples like you today.