Resources
Bill Belichick's 'Do Your Job' Leadership Philosophy – makes their team one of the most winning teams in NFL history. Belichick's translates strategic goals into daily actions in a similar way to our ExecutionAdvance™, here are a trio of 3 minute videos to explain:
"ACTIONS & BEHAVIORS"

"ACCOUNTABILITY"

Streamlined Press (division of Streamlined Management Group Inc.) has two titles currently:
Most Recent Title First:
The Lincoln Authority – How to Lead with Authority in Today's Organizations
Dedicated site – Published in 2015
Available on Amazon as a Kindle ebook or paperback – Amazon.com or Amazon.ca (if you're in Canada).
Increase Your Impact With Collective Leadership
The Lincoln Authority addresses the important but under-emphasized topic of collective leadership. It is how leaders exercise their managerial authority, and how collective managerial behavior affects an organization's 'authority structure' – the strength of the correlation between directives given and actions completed.
An organization with a weak 'authority structure' cannot improve and adapt because it cannot convert leadership direction into concrete action – such an organization is effectively adrift.
The answer to poor employee engagement isn't more surveys, it is leaders who know how to exercise authority: strong, respectful authority. Improve your practice of leadership and increase the impact of every hour you spend, every directive you issue.
The Lincoln Authority is crisp, practical, and every chapter contains ideas and examples leaders can apply to expand their influence and accomplish more. Authority principles come alive with brief illustrations from the life of Abraham Lincoln.
"Your excellent book, The Lincoln Authority, is an outstanding way to introduce business leaders to the importance of honest character in business, and the leadership skills necessary in business — all exemplified by President Lincoln."
Lewis Lehrman – former President of Rite Aid, economic historian, U.S. National Humanities Medal recipient, and author of Lincoln at Peoria – The Turning Point.
"Absolutely wonderful resource on leadership and how to effectively lead an organisation (or business unit).  Filled with great ideas – but more importantly – filled with actionable takeaways to help be a more effective leader in the workplace. A must read for both new and seasoned business leaders."
Joshua Siegal, VP Talent & Culture at Real Matters
---
The Improvement Toolbox: 'Every Manager's Guide' to Creating Long-lasting Improvement in Your Organization
Published in 1997/2018 (kindle)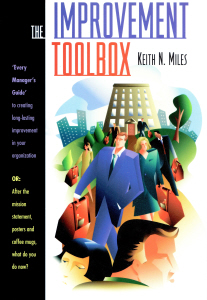 Shows managers how to make simple adjustments to shape employee behavior. 

Provides managers with uncomplicated tools that people will actually use to improve their area's performance.
The Improvement Toolbox is about constructing roles which encourage effective employee behavior rather than asking managers to spend time prodding, nagging, and controlling in order to see changes occur.
The Improvement Toolbox quickly shows managers two essential skills:
How to keep your people doing the right things

How to improve the performance of your area
The Improvement Toolbox is realistic and easy-to-understand and implement. The book is based upon 4 years of research with 60 + organizations. Warning: If you follow the steps outlined in this book, you will have more time to manage, your area will run more effectively, and you may be promoted to help other areas within your organization.
Available here: Amazon.ca or Amazon.com.